Raksha Bandhan Gift Ideas below Rs. 1000 for your Sweetest Brother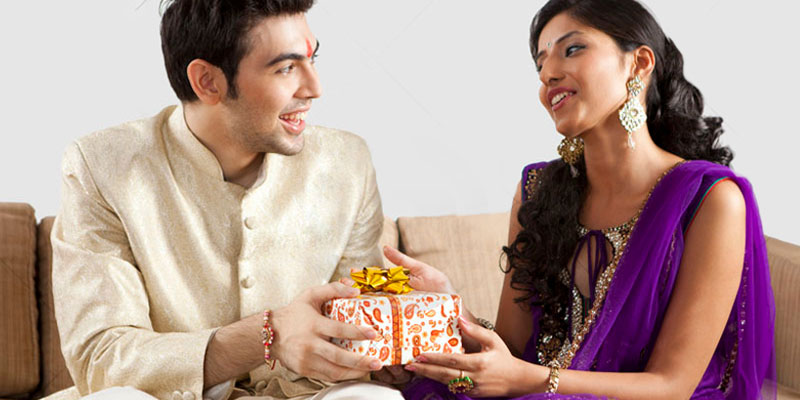 Here are Rakhi gift ideas below 1000 rupees that make yourRakhi gifting both memorable and budget-friendly.
Cadbury Hamper for Rakhi: Probably no one would not love Cadbury chocolates as Rakhi gift. Itis an evergreen choice for brothers to make the festival sweeter. Choose thisspecial Rakhi gift hamper made with handpicked Cadbury chocolates that alsocome with two designer Rakhis, free Roli Tilak and Chawal.
Twin Rudraksha Rakhi with Handmade Chocolates: This Rakhi give your brother the blessings of Rudraksha. Thisexclusive Rakhi gift for your brother contains twin rudraksha rakhi along with "BestBrother" handmade chocolates to make your brother's special daymemorable.
Outstanding Park Avenue Men's Grooming Set with Bhai Rakhi: Here is a Rakhi gift idea for your stylish brother. Choosethis premium grooming kit for your stylish brother. Plus, it comes with apremium Rakhi and roli chawal that creates the moments of the day.
Soan Papdi from Haldiram with Zardosi Rakhi: Haldiram sweets are synonymous with Rakhi celebration.Sisters choose sweets as the first choice to gift as Rakhi sweets to theirbrothers are pure and hygienic. This combo is in your budget and will be safelydelivered at the earliest.
Remote Control Car with Kids Rakhi: Kids love Rakhi for many reasons. One of the reasons is thegift they get at this festival. They also love to flaunt the Rakhi with prideto their friends and cousins. Choose this remote control car and kids Rakhicombo to bring cheer onto your little one's face on this auspiciousfestival.
Silver plated Rakhi Pooja Thali for Bhaiya Bhabhi: This is an exclusive combo specially designed to show yourrespect towards bhai and Bhabhi at this Rakhi festival. It comes with designer lumbarakhi set and an elegant Silver plate Puja Thali decked with premium dryfruits, sweets and chocolates to treat your loving bhaiya and bhabhi.
Lovely Family Rakhi Set with Dry Fruits Potli: Send your best wishes on Rakhi to your lovely bhaiya, bhabhiand kids with this lovely Rakhi gift combo. Decorative potli filed withAssorted Dry Fruits make this Rakhi gift stand out from any other gifts foryour family.
Happy Rakhi to you and your brother.